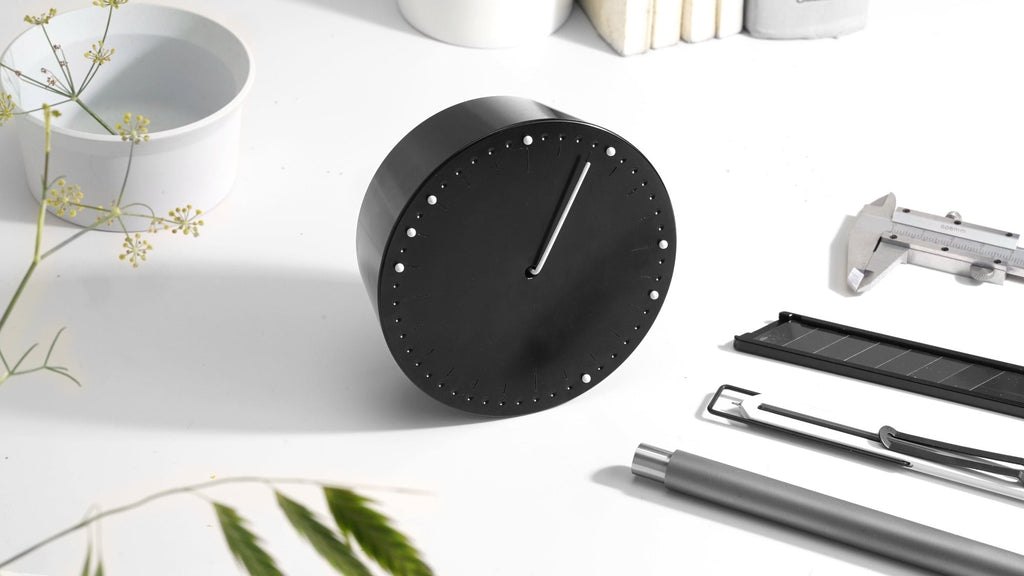 Superlocal
198.00
---
Orders placed after 2pm (NYC time) ship
tomorrow
*excluding holidays
Build your clock around your day, instead of scheduling your day around a clock.
A 24-hour clock with a customizable dial to set according to how you spend your day.
Did you know... getting consistent sleep, even for just a few hours a night is healthier than sleeping for longer hours at random intervals? And it turns out that doing the mundane things you do anyway, like eating, exercise, and folding laundry at the same time each day can reduce stress and open up space for you to focus on the more interesting stuff.
Superlocal is a 24-hour timepiece. The single clock hand will complete one revolution each day. The clock dial has 48 machined dimples positioned at half hour increments. The dimples perfectly fit 2.5mm magnetic spheres. Use these spheres to personalize your clock dial to mark significant moments in your day. Leave space open where there is less of a need to focus on time.
We are creatures of habit, with circadian rhythms at our centers. Fostering a routine which correlates to this intrinsic cycle increases both mental and physical well-being. Superlocal is a timepiece focused on this idea.
Superlocal offers a more personal relationship with timekeeping. One that's less rigid and allows us to elevate moments that correspond to daily ritual.
The approach is intentionally subtle and non-dogmatic. There are no numbers or alarms to trigger your senses, scold or shame you. (You can get those on your phone). Think of Superlocal instead as more of an offering, a supportive and gentle way to visualize and cultivate daily ritual.
Transform our relationship to time.
Start with sleep.
It's up to you to set Superlocal how you'd like, but we recommend starting with sleep. Begin by placing one dot to indicate the time you go to sleep, and another at the time you wake up.
Live with it for a few days, and try to focus on honing in on your sleep ritual.
From here, place another marker. Maybe it is when you eat dinner, or do some exercise, or help your kids with homework.
Superlocal is a subtle and gentle approach to keeping a healthy routine.  It's also a way to quickly visualize how you spend your day.
For many years, we've been doing an exercise (usually during moments of burnout or existential crisis) where we sketch a 24-hour pie chart of how we spend our time each day. It's a helpful way to take inventory, and to make sure we're spending time on what we want.
On the left is a sketch of Taylor's day from this past spring where she was spending way too much time transporting kids to school and was slowly losing her mind. On the right is how she would prefer to spend her time, given those constraints.
Maybe you do your best work between 2 and 6am and then sleep from 6 until noon. Maybe you wake up at 5am to get in an hour of drawing before your kids wake up, and are in bed with them by 8pm.
Whatever your routine, with Superlocal you'll start to see your day differently. The 24-hour cycle gives you a much more intuitive and spacial feel of your entire day.
Everyone's day is different, but routine is universally important.
It turns out we're not the only ones who like this idea. A while back a friend pointed us to this infographic poster by RJ Andrews which visualizes the daily rituals of famous creative people. Read more about this, and how Andrews mined the info for this from Mason Currey's 2013 book Daily Rituals:How Artists Work.
Here's a simple template to download + print out so you can try the exercise!
Or use this Superlocal webapp created by @trafnar to see how you might arrange your dots.
The nitty gritty on how Superlocal works.
Subtle machined lines serve as a visual guide to help set your dial. Long lines mark every 6 hours, short lines mark the hours and no lines are at the half hour.
Position the hand to set the time.
To access the dial markers, press to snap open the back plate. This will also give you access to the battery.
Superlocal clock ships with 11 x white and 1 x gold magnetic marker spheres stored in a little slot.
Place it on your desk, or mount it on a wall.
If you're using Superlocal as a desk clock, two magnetic spheres fit into indents on the perimeter of the body preventing your clock from rolling away.
To mount the clock to your wall, put a screw or anchor (with a maximum head size of 8mm or 0.3") into your wall. Securely hang the clock from the machined hole in the back of the body. Don't hang it from the plastic clock movement!
Fabrication details.
Superlocal clock is machined out of steel and finished with a smooth and durable black Melonite coating. The single hour hand is fabricated from aluminum and steel with a matte white powder coat. The 24-hour movement is made in Germany.
Specifications.
Materials : Steel, aluminum, neodymium magnets.
Finish : Black Melonite coating [clock], matte white powder coat [hand].
Dimensions : 100 mm x 100 mm x  50 mm // 4" x  4" x  2"
Weight : 1.1 kg // 2 lb 7 oz
German made 24-hour quartz movement
Ships with 11 white + 1 gold 2.5 mm spherical magnetic dial markers.
Requires 1 x AA battery [not included]
Warning.
This product contains magnets and is not suitable for children. Swallowed magnets can stick across intestines causing serious injury or death. Seek immediate medical attention if magnets are swallowed or inhaled.
Customer Reviews
life changing
Within a few moments of figuring my way around with it, everything clicked and I was able to see how my day worked - or, in many cases, didn't. By letting me shift the elements of my daily ritual here and there and by showing me how much time I really had, the Superlocal brought a sense of calm to my day that was sorely lacking. I can't imagine my days without it.
09/09/2022
Gustavo H.

United States
The analog companion you didn't know you needed
Honestly the perfect antidote for all your alerts and alarms. Only feedback is that I wish it had two rows of dimples to allow for multiple parallel schedules (weekday/weekeend, two partners, etc.) on a single dial. Also, however beefy you think the main billet is.. it's beefier. It lands somewhere between familiar and novel, and strikes a great balance between design and utility. Damn useful. Thanks CW&T!