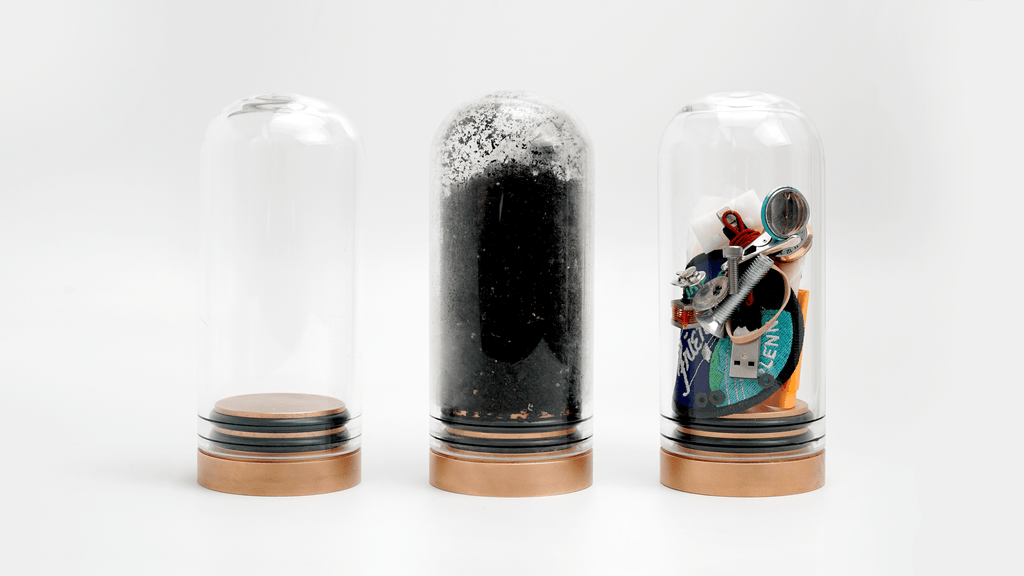 This project is a Prerelease.
Objective: Design an urn and think rituals around death.
Release 09/06/2018 : N-Urn 01
This urn is designed to hold ashes of a body in multiple urns. The bottom is made from a chunk of aluminum bronze, and the top is 4mm thick quartz glass.
Each urn is sized to hold about 25 cubic inches of ashes or 25lbs (11.3kg) worth of a pre-cremated body. So, if the body weighed 100lb (prior to cremation), you would use 4 urns to contain all the ashes.
N-Urn is a set of vessels designed to temporarily hold ashes...and more permanently hold memorabilia from a person or from the location where ashes are returned to Earth.
Che-Wei:
When I die, I'd like my body to be cremated and placed in 6 urns.
I would like friends and family to gather on each anniversary of my death (for the first 6 years) to meet up and visit the following locations (and spread some ashes there if possible).
Futako Tamagawa (River) in Tokyo, where I spent much of my adolescence eating junk food and playing with fireworks.
Yatsugatage (Mountain), my most memorable hiking trip as a kid.
Newtown Creek, Brooklyn, where we founded our studio in the GMDC building and once saw a man fish out a crab and told us he sells them at the market in Chinatown.
Any beach. Dig a deep hole and chuck me in.
The Moon (or anywhere in outer space) if that's a thing that people can reasonably do at the time.
Pick a place. Doesn't really matter where.
At each location, the urn should be emptied and filled back up with memorabilia from the location. Dirt, litter, water, debris, rocks, whatever can be found and reasonably placed back into the urn.
Taylor:
When I die, I'd like my body to be cremated and placed in 3 urns.
I would like family and friends to take a trip together 1 year, 6 years and 15 years after my death. The purpose of these trips is to enjoy yourselves and each other's company.
Trip 1 (year 1): Road trip on back roads from Southern California to White sands, NM. This is my happy place. Pick a night to camp here. Don't spread ashes in white sands, just on some open desert road driving fast.
Trip 2 (year 6): Take a ski trip somewhere in the alps or to some crazy high beautiful above the tree line mountain. Hopefully by the time I die I can be more specific about this mountain. Hike up to the peak, eat a picnic lunch you feel you really earned and dump ashes. Ski, ski, ski. No snowboarding allowed.
Trip 3 (year 16): Take an ocean beach trip to a beach with powerful waves, bordering scary, but not actually dangerous. Somewhere not too hot, and where the water is still crisp. Coastal Maine is perfect. Also a special place where I spent time as a kid and also where we took a wonderful family trip before our first child was born.