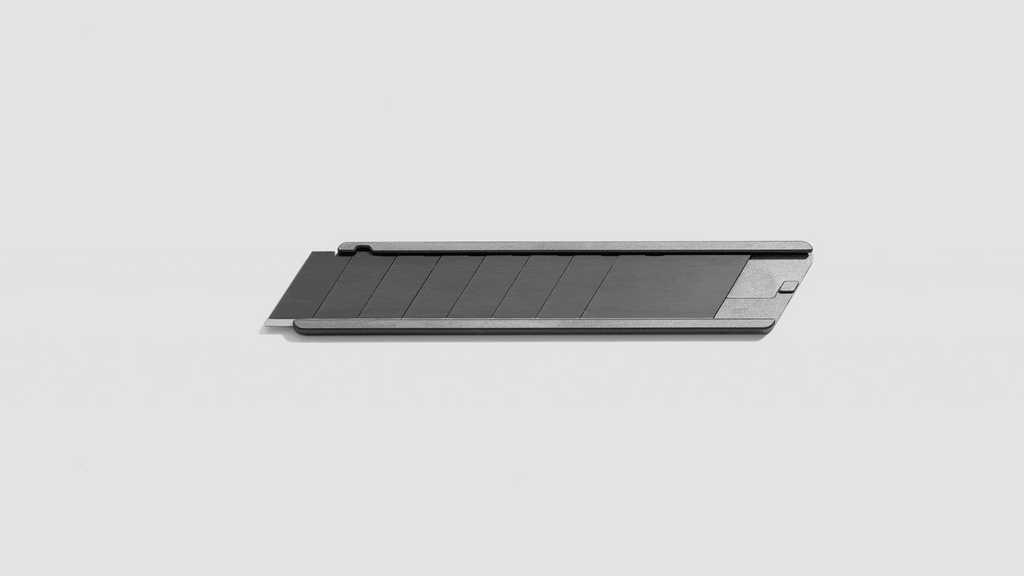 Herring Blade
110.00
---
Orders placed after 2pm (NYC time) ship
tomorrow
*excluding holidays
"It's the only utility blade I'll ever use again, if I can help it. It's pretty, it's snappy, it's elegant, it's durable, it's genius, it's precise, and it's what a well-designed thing should be: complex, not complicated; simple, not simplistic; useful, not flashy."

- Parker, Architecture Student (USA)
"It's the only utility blade I'll ever use again, if I can help it. It's pretty, it's snappy, it's elegant, it's durable, it's genius, it's precise, and it's what a well-designed thing should be: complex, not complicated; simple, not simplistic; useful, not flashy."

- Parker, Architecture Student (USA)
Herring Blade is a super low profile utility knife for precision cutting and everyday carry.

This stylish, minimal tool is ideal for everyday cutting + carry. Use it for everything from opening packages to precision studio work.
Available for lefties + righties.
Designed for single handed quick access and operation. A magnetic mechanism keeps the blade locked in position with no moving parts.
Get it with a custom engraving.
Available in Titanium with a matte glass bead finish and 7075 Aluminum with a Black Type-III Hardcoat.
Ships with a 10-pack of custom black notched snap-blades.
Compatible with standard 18mm snap-blades.
Custom auto locking mechanism (no moving parts).
Single handed operation.
Comes in left and right handed versions.
Easy to swap in new blades.
Sticks on ferrous surfaces (steel doors etc).
Magnetic mechanism and lock lip.

A neodymium magnet + precision machined latch keeps the blade in position while retracted.

To draw the blade, use your thumb to press the surface of the blade. This will detach the blade from a magnet and let you bypass the latch. You'll hear + feel a satisfying click. Then slide the blade into position and release your thumb. You can easily do this with one hand.
A magnet secures the blade in its locked position until the blade is pressed to release it from the magnet so it can bypass the latch.
Notched snap-blades.

Herring Blade ships with a 10-pack of custom notched snap-blades. These notches allow you to take advantage of the magnetic latch mechanism while the blade is in use.
Pencil grip.

The notches come into play when you want to hold the blade without your thumb on the face of the blade. For delicate cuts you might want to hold the blade like a pencil, so the notches will keep the blade locked in position.
Thumb grip.

For heavy duty cutting, keep your thumb pressed on the face of the blade to lock its position and quickly retract the blade when you finish cutting.
While the custom notched blade gives some added functionality, Herring Blade is also compatible with standard 18mm snap blades, and most of the time it is completely fine to use a standard blade (Taylor often prefers using Herring Blade this way).

Unless you're gripping the blade like a pencil for cutting delicate contours and rotating your blade, your thumb will be perfectly positioned to secure a standard 18mm blade in place.

The standard snap blades pictured here are by OLFA + 3M.
Click slide swap.

To replace blades, click to release the magnet + bypass the latch, slide the blade out and put a new one in.
No moving parts to fumble with. Simply pull the old blade out and slide a new blade in.
For lefties too!

After watching our left-handed 5 year old dangerously fumble with Herring Blade, we realized how important it is to have tools designed specifically for your handedness.

Many tools are designed in such a way that disadvantages left handed people. Which is crazy because lefties make up around 10% of the global population.

When it comes to a cutting tool, safety is a big deal.

If you are a lefty, be sure to get a lefty version, if you are a righty, get the righty one.
Super low profile.

Herring Blade is thin, lightweight and free of bulky mechanisms. Carry it everywhere you go or use it as a bookmark in your favorite sketchbook. The locking mechanism ensure the blade stays retracted in your pocket until you press the blade down to draw it out with your thumb.

Herring blade is the same thickness as 4 credit cards.
Pictured with a sharpie buddy as a size reference.
Let's do some cutting...
Rule #1 : Always be snapping your blade.
The great thing about utility blades is you are never more than a snap away from a fresh start. As long as you're careful, it's ok to be rough with your blade, but make sure you keep snapping so it stays sharp.

If you have one takeaway from getting this far down on this page it should be : ALWAYS BE SNAPPING YOUR BLADE. Even if Herring Blade isn't your jam, always keep your utility blade sharp. It's safer and it will give you the cleanest cuts.
Prototypes + process.

Along our way to designing Herring Blade, we went through close to 30 iterations of different designs. If you follow our work, you may have seen or purchased the 3D printed Pre-Release version of Herring Blade from our site.
The early batches were 3D printed in resin. Some with magnets embedded into the resin. We cut a few prototypes on our CNC mill out of Aluminum and carried these for about a year, until arriving at our final design.
Specifications.
Material: 7075 Aluminum or Grade 5 Titanium + neodymium magnet
Finish: Black Type III Hardcoat Anodize (Al), Matte glass bead blast (Ti)
118 mm x 21 mm x 4.3 mm // 4.5" x 0.8" x 0.16"
Al: 20g w/ blade, 14g w/out blade. Ti: 28g w/ blade, 22g w/out blade.
Ships pre-loaded with one custom ultra-sharp black notched snap-off blade and an extra 10-pack of notched blades [you must select this option when you add to cart].
Please use responsibly.
Utility blades can be dangerous if used incorrectly. Get to know your Herring Blade when it arrives. Be safe with it. Know that this is a knife and we are not responsible if you hurt yourself.
In depth hands on w/ Herring Blade.